Development of an online mindfulness program for stroke survivors and their caregivers
Purpose
This study aims to test the satisfaction and ease-of-use of an online mindfulness program. The program is specifically designed to increase mindfulness for stroke survivors and their caregivers or loved ones. We are particularly interested to obtain feedback on the content of the program and the website used to offer it. The feedback and suggestions will help us to create a final version that is easy to understand and relevant for stroke survivors and caregivers. This study will be done virtually (no face-to-face visit).
Keywords: stroke, mindfulness, well-being, caregiver,
Study Sites
This is a virtual study. Participation is not limited to a location.

18 +
We are looking for stroke survivors and their caregivers aged 18 years and more, with access to internet on a computer or a smartphone. If you have participated in a mindfulness program or meditation exercises in the past 3 months, you will not be be eligible to participate in this study.
If you are interested to find out more about this study, please contact Marika Demers by email.
What's involved?
Number of visits
3 online meetings (1 before the program, 1 after the program and 1 done 1 month after)
Procedures
Mindfulness exercises

Surveys

Interview
Compensation
A list of mindfulness resources will be available for successful completion of study.
Medical cost coverage
Study-related tests and procedures are covered; Routine health care tests and procedures are not covered.
Eligibility
Must have
---
Aged older than 18 years old
Diagnosis of stroke (for stroke survivors) or caregiver/carer of someone who have had a stroke
Ability to access Internet using a computer, a tablet and/or a smartphone
Can't have
---
Severe language impairments
Regular meditation or participation in a mindfulness program in past 3 months
Study Team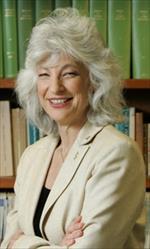 Principal Investigator
Carolee Joyce Winstein, BA, BS, MS, PhD
For questions about this study, contact:
Mrs Marika Demers
323 442-1196
IRB number: UP-20-00568
Study posted on: November 2, 2020
Recruitment period: September 2020
We respect your privacy!
All the information you give us is stored in a secure, password protected database. All the information that you choose to share will be kept private and confidential. Read University of Southern California's Privacy Policy here.